98%
98% of clients admitted to a top-choice college.
#1
Our admissions experts and tutors keep you our #1 priority.
$0
Free consult and prices to fit any budget.
How We Can Help
Going Ivy is a college admissions, tutoring and test prep consulting group. We use a results-driven approach to help students gain admission to their dream schools. Headquartered in Phoenix, we help students around the U.S.
Meet our team of former admissions officers, Ivy League and top school graduates, and tutors.
Local Experts - Nationwide Reach
Going Ivy team members are available for in-person or virtual meetings around your schedule.
College Admissions Consultants
The college admissions process is often viewed by students and parents as one of the most stressful times they've experienced. There is overwhelming competition for a few slots at top schools, misinformation about what it takes to get in, anxiety about the biggest standardized tests ever created, lots riding on every grade for every class in every semester, fear about eventually not getting in to the schools you choose, and major deadlines to meet.
But it doesn't have to be this way.
If you approach the process of applying to college with assumptions about the best schools having the most recognized name or anxiety about writing the right answer in an essay, you'll probably find the road to admission rocky and nerve-wracking. If, on the other hand, you focus on your strengths, research the colleges that would be the best fit for you, and organize a roadmap to guide you step by step toward your goals in your high school classes, on your standardized tests and for your applications, the college admissions process can open up confidence and motivation in a student that will last well into his or her future.
At Going Ivy, we believe there is a perfect college or university for each student, and we can help you get there. Ours is a holistic approach to college counseling: We invest time up-front to get to know each student—what drives you, your passions, the future you want. We recognize that college admission includes your grades in high school, your test scores and the story you tell in your application. We offer tutoring, test prep and comprehensive application and admissions guidance to achieve the ultimate goal of college acceptance.
We are a team – your team – of independent education consultants who believe college admissions isn't a series of tricks to say the right thing to earn an acceptance letter. It is about showing the best of who you truly are and what you want to be. We partner with students and parents to ensure every step is taken with confidence.
Our unique approach ensures you're not just trying to get into a top school, but rather finding the best school for you and what you want for your future.
Step 1: Review
Reviewing your unique attributes as a college applicant means your Going Ivy college consultant will ask lots of questions. Where do you see yourself, what colleges do you like and why do you like them? We won't ask you to fill out a questionnaire and do the work on your own. You may be a leader, but what kind of leader are you? We will follow up and get to know who you are and what story you are starting to tell.
Step 2: Roadmap
Based on the time we spend getting to know you, we'll identify your strengths, areas for opportunity and what will make you stand out to admissions officers. We'll develop a step-by-step comprehensive roadmap of not only the timing of test-taking, essay-writing and application-submitting, but also the strategy and motivation to complete it all.
Step 3: Results
We work with you to implement your custom plan with the goal of acceptance letters from your dream schools. But the lasting results will be ways to manage stress, boost confidence, stay organized, sell yourself, set goals and know yourself.
It is our mission at Going Ivy to provide comprehensive guidance throughout the college-application process. We are a team of academic specialists, expert tutors and former admissions officers that utilizes a results-driven approach to help students gain admission to their dream colleges. We are also graduates from top universities across the country. We know how it's done and will be your guides and motivators throughout the college-preparation process. For nearly 10 years, we have worked with students to motivate them and teach them the skills and insider tips to write their own admission ticket into Ivy League and other top schools.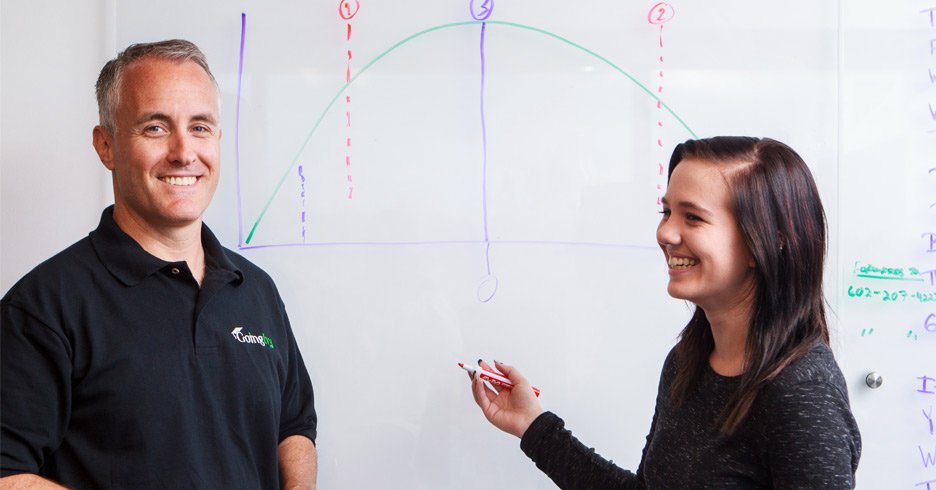 Admissions Proof
Going Ivy students have been admitted to:
Arizona State University – Barrett Honors College
California Institute of Technology
Chapman University
Columbia University
Cornell University
Dartmouth College
Fordham University
Georgia Tech University
Harvard University
Harvey Mudd College
Marist College
M.I.T.
Northwestern University
Princeton University
Reed College
Rice University
Santa Clara University
Stanford University
University of Arizona
University of Chicago
University of California Berkeley
University of California Los Angeles
University of Denver
University of Illinois
University of Michigan
University of Pennsylvania
University of Washington
Vanderbilt University
Yale University
And more!
Going Ivy Goals
Our goal is simple: To creatively and efficiently maximize our students' chances of gaining admission to the college or school of their dreams. We recognize that your grades, test scores and application will get you there. We offer comprehensive help with it all.
Yes, we'll discuss your college application. But we'll also inspire you by offering sessions with professional motivational speakers and coaches. We'll practice with you for interviews and for your future. And we'll teach you fundamentals for presenting yourself with an impact. Our team of experts will support you, our custom roadmaps will guide you, and our state-of-the-art software will keep you organized. We are passionate about the process and invested in the results you'll earn.
Reasons to Partner with Going Ivy
The college admissions process is filled with myths about your chances of getting in and your sureness of success if you get in. With such big mysteries and such high stakes, it makes sense to enlist some help. You'll have teachers, school counselors, parents and mentors, but sometimes you need more. Sometimes the selectivity of certain schools demands more.
People hire independent college admission advisers, tutors and test prep experts for all sorts of reasons. The most common are:
To give students more personalized attention than they might receive from the high school setting.
To alleviate stress on the student and parents.
To stand as a buffer between parents and students so neither feels too much pressure.
To answer questions and replace confusion with confidence.
For students and families who want additional resources to help them through the decisions regarding college and the steps to get into top-choice schools, Going Ivy admissions consultants, tutors and test prep experts are available. In a 2011 exit survey given to seniors graduating from Atlanta-area schools, 42% indicated they would have liked more help with the college application process. 31% wanted more assistance with test-taking strategies. At Going Ivy, we consider it an honor to work with students who are motivated to take this next step and be as prepared as possible for entering college.
We know there are more than just Ivy League schools. We want to help you find the perfect school for who you are and who you want to become. We offer personalized tutoring and consulting to students of all backgrounds, personalities and academic abilities. We love that the ivy plant climbs. You'll climb, too, when you get admitted to the school that suits you best!
"Thank you for helping me get into my dream school! Your edits and advice definitely helped guide me through the admissions process, and I can't be grateful enough.
– Going Ivy client, Princeton University student
"I cannot believe the difference you made! The confidence boost alone is priceless to me. My family is very encouraging, but telling me, 'You can do it!' does not exactly land me an acceptance anywhere so I cannot thank you enough for tangible help like this!"
-Going Ivy client
College Admissions: True or False
Colleges choose students with the best scores, grades and activities. Grades, test scores and leadership activities won't hurt your chances of being chosen by a college, but the admissions officers are following a holistic approach. They'll review your essays, your letters of recommendation and all aspects of what you want in a college and how you'd fit in their community.
The best school for me is the highest-ranking school that admits me. It depends. Don't discount which school feels like home from your campus visits to your communication with presidents of student-led activities or professors. Some schools offer honors programs, unique study abroad arrangements, research opportunities and more that could be a wonderful fit for you.
The college application process is going to be the most stressful time of my life. This doesn't have to be true. Stay organized and stay motivated to make this time one of the most exciting experiences of your life—one that marks the beginning of something transformative. There are a lot of steps that should all get your best effort. Take breaks and get help when you need it.
Why We're Different from the Rest
With an independent education consultant, you'll get individualized attention. But in the world of college admissions coaching, there are many experts and many specialists. At Going Ivy, the difference is the comprehensive aspect of the process. We recognize you don't just need a tutor to get a higher grade in a class. You need the higher grade to get into a better college. The same is true of standardized test preparation. It is all leading to a goal of college.
We've also invested in the business and what we invest in our clients. Going Ivy consultants and tutors have expert certifications, a proven track record of acceptances at top schools, specialized software and resources to offer, and choices for your budget.
But the biggest differentiator is our investment of time with our clients. At Going Ivy, we spend time up-front to get to know each student—what drives you, your passions, the future you want. We don't just try to help with what you'll put on your college application. We'll inspire you by offering sessions with professional motivational speakers and coaches. We'll rehearse with you for interviews and for your future. And we'll teach you fundamentals for presenting yourself with an impact. We are passionate about the process and invested in the results you'll earn.
We offer a free consultation to all prospective students, either in person or via video conferencing. We'll ask not just profile questions about your GPA or class ranking, but also what motivates you, what problems you wish could be solved, what kind of leader you are, or what was the best part of your last summer. From this initial interview and discussion, we'll develop options for plans to get you admitted to the schools of your choice. These plans include our easy-to-use, customized client software to keep you organized and engaged.
Advice Tailored to Schools — And Your Needs
The path to gaining admission is different for every college. There is no one magic formula. The process of getting into Cornell is vastly different from gaining admission to Princeton. At the graduate school level, your strategy for getting into Harvard Law School cannot be the same for getting into Yale. Each school has a unique character and needs for its student body. Our team understands what each school is looking for and the steps you can take to maximize your chances of making your college or graduate school dreams a reality.
Get Started
Call to schedule a free consultation, in person or via video conferencing.
We will review your situation and develop a customized tutoring, test prep or admissions plan.
We outline the steps necessary to get into the school of your choice with options for what you need and don't need to fit your budget.