98%
98% of clients admitted to a top-choice college.
#1
Our former admissions officers and top school grads keep you our #1 priority.
$0
Free consult and prices to fit any budget.
College Admissions Consulting
Going Ivy helps students gain admission to their dream colleges. Going Ivy's team of former college admissions officers, education professionals and Ivy League school grads provides students with a roadmap for how to make their college dreams a reality.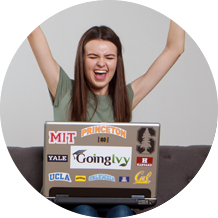 Proven Results
Going Ivy's 98% success rate stems from a deep knowledge what moves college admissions officers.
Motivation Focus
Our tutors work to ignite the spark of passion and drive within students for success in the subject and beyond.
Holistic Approach
Our holistic, personalized approach is created with one goal in mind: getting the best results possible.
College Admissions Consulting
Going Ivy is one of the country's leading college admissions consulting services. Our unmatched team of former admissions officers and educational professionals has a proven track record of helping students gain admissions to their dream schools -- whether Ivy League or otherwise. Every Going Ivy team member cares deeply about their students and is committed to easing the burden on parents and helping students climb to their highest potential in college and beyond.
We're Here To Help
There is no magic formula for gaining admission, but there are steps we can show you for finding your dream school and becoming the student they need to admit.
You've set a goal to get into college, and you probably have a few schools in mind. But most students — and parents — get incredibly overwhelmed when they start thinking of all the requirements, recommendations, test scores and to-dos that each college admission demands.
At Going Ivy, we believe there is a perfect college or university for each student, but finding that match and getting in usually isn't easy. The perfect school for you is going to challenge you and pull you up to greatness — and that challenge starts with the admissions process. The process of applying to college carries with it some of the biggest decisions a teenager will have ever made in his or her life. The decisions require maturity, motivation, research, resolve and reflection.
Our college admissions experts and team members have graduated from the nation's top schools and know what it takes to get accepted. We focus on igniting the internal spark of motivation in our clients. In our experience, students can only achieve their best when they are truly driven from within. Although some students have this internal motivation naturally, most do not. In addition to providing exceptional academic counseling, we work with students, regardless of their academic goals or abilities, to help them find the passion that will give them success through the application process, college and beyond.
Most Selective Colleges
According to the National Association for College Admission Counseling, most of the more than 4,000 U.S. colleges accept more than half of those who apply. In fact, only 19.7% of colleges accept less than half of their applicants. Then, there are only about 100 highly selective colleges admitting less than 25% of applicants. That small group of schools just happens to include names that everyone has heard of and everyone thinks is the perfect school for them.
In 2007, Harvard announced that for the first time it had accepted less than 10% of students who had applied. By 2017, the admissions rate dropped to 5.2%, and it is still falling. The University of Chicago, which accepted 35% of applicants in 2011, reported that only 13% were admitted in 2016. At USC in 2010, 24% of students gained admission. In 2017, the rate was just 16%.
Here are some of the most selective U.S. colleges and universities, based on 2017 admissions records:
Stanford: 5% of students who apply are accepted
Harvard University: 5.2%
Columbia University: 5.8%
Princeton University: 6.1%
Yale University: 6.9%
Massachusetts Institute of Technology: 8%
University of Chicago: 8%
Brown University: 8.3%
California Institute of Technology: 9%
University of Pennsylvania: 9.2%
Dartmouth College: 10.4%
Claremont McKenna College: 11%
Duke University: 11%
Pomona College: 12%
Cornell University: 12.5%
Helping Reduce the Stress of the Admissions Process
The college admissions process is described by high school students not just as stressful, which it is, but also as scary. The stress many students and families feel about college admission is based on the outcomes of the process being black and white: acceptance versus denial. The perception is often success versus failure. The stressful reputation of college admissions, however, doesn't have to be true of your experience. At Going Ivy, we are student-centered in our approach. And we offer guidance throughout the process by:
Helping explain the admissions process and how colleges decide who gets admitted.
Finding your strengths that would appeal to the colleges of your choice.
Responding to every call, text or email from students and parents, day or night.
Providing research and information on colleges and educational options.
Providing access to CollegePlannerPro software that houses a wealth of information.
Harnessing stress and anxiety into motivation.
Although the work you do throughout high school and for standardized tests is all part of your college admissions goal, the heavy lifting of college admissions takes about six months. This heavy lifting includes:
Researching choices: With in-depth research on the school's size, student characteristics, areas of study, teaching techniques, requirements from admission to graduation, profile of a typical admitted class, and more, you can understand if this is the right school for you, and how likely you might be to receive a letter of acceptance.
Choosing where to apply: You'll want a healthy mix of safe bet, target and reach schools. You'll have to decide which schools are your top choices and apply their first—perhaps even choosing one as an Early Decision application.
Completing applications (including applications for financial aid): Make sure you know exactly what is required for each application and keep yourself organized. Make every word—from personal statements to your choice of major—your best effort, your best impression, thoughtful and complete. There are no shortcuts.
Deciding which college to accept: If you are in the fortunate position to have several college acceptances to choose from, you'll do the additional research and reflection to decide what the best fit is for you.
The four steps listed above do not always feel so simple. If you find yourself overwhelmed with the process and worried about how you'll get it all completed to the best of your ability, Going Ivy has helped many students navigate the process, and we're available to you.
The Typical Most Important Factors for College Admissions
High school grades
Caliber of high school courses
Standardized test scores
Personal statement
Letters of recommendation
Some schools, like George Washington University, have made standardized tests optional. Some schools, like Harvard and Yale, factor in whether you are the son or daughter of an alum to a larger degree. And some schools, like Georgetown, require an interview in the admissions process.
We cannot give you the magic formula for gaining admission to your dream school — it doesn't exist. But at Going Ivy, we do believe there are steps that will lead to finding your dream school and becoming the student that they need to admit. We'll keep you organized to get your application submitted early. We'll make sure you are answering the questions each application is really asking. We'll give you insight into how colleges make their decisions. We'll help you tell your story to the admissions officers through your grades, test scores, activities, essays, letters of recommendation and every answer you submit in your application.
There are some known "hooks" to use in your favor. These include legacy status, athletes, underrepresented students, geographic diversity and special talents. The majority of students do not have any of these. We believe the college admissions process needs to be authentic — it is not about "packaging" yourself to the perfect applicant that you think a college wants to see. It is about presenting who you are, and who you are becoming. College admissions officers are real people, and they will want to know more than just your test scores and grades.
College Admissions as a Transformative Process
A recent NACAC survey found that being self-aware is a critical component to college readiness. But so much of your success in the applications process, college and beyond depends on your personality, your academic interests and your unique qualities. Consider these unique application questions:
"Una destinatio, viae diversae" is the Mills motto. Translated, it means "one destination, many paths." At Mills, our community is created and sustained by the many unique paths of our students. How has your path led you to Mills? (Mills College)
Describe one of your quirks and why it is part of who you are? (University of Virginia)
Virtually all of Stanford's undergraduates live on campus. Write a note to your future roommate that reveals something about you or that will help your roommate — and us — know you better (Stanford University)
You will see that the process of applying to college is not just a time-consuming task or burden, it is an experience that will mark a transformation into who you are becoming. There are no shortcuts to get there. You will do the work, and you will own the reward of college admission in the end.
How College Admissions Consulting Can Help
Just as a tutor supports the student to improve a grade in a class, just as a realtor supports a homebuyer in finding the perfect house, just as a trainer supports a person in his or her fitness goals, a college admissions adviser helps students and families navigate the often confusing, challenging and stressful—but also exciting and soul-searching—process of college applications.
Parents don't want to tell their teenager what to do about college; they want to coach them and support them through it. Parents don't want their child to be disadvantaged because they don't have the time or the experience to help navigate the admissions process. And parents don't want their relationship with their son or daughter to deteriorate because of the stress of college admissions.
Our services are comprehensive, and we'll get an idea of what you need because we'll get to know you. Either in person or through video chat, we'll be your partner and support team through the process. We'll connect you to the best resources for editing your essays, motivating you, improving your grades, showing you how to stay organized, building your confidence, helping you find the right balance in life and the right college for you, and more.
We don't only work with students who want to go to Ivy League colleges—we work with anyone who wants to reach their highest potential.
Strategies for Where to Apply
2012 research from Stamats found that most teens apply to three to four colleges. Going Ivy students usually submit more applications (six to twelve), often because some of the most desirable schools are so selective. The schools are usually grouped into the following categories based on a student's grades, test scores, leadership experience, activities and more.
Safe Bet School: You are applying with a high degree of confidence, perhaps even certainty, that you'll be admitted. You have fulfilled more than the researched minimum requirements or scores. Even if you would rather be at a "better" school, you still need to be able to see yourself happy here. If you can't picture yourself happy at these schools, you need to do more research and find more choices.
Match School: This is a school that fits your personality and academic interests, and your high school achievements are squarely within the usual admitted class profile.
Reach School: Your scores, grades or achievements might be below what is usually accepted at this college, but there is a chance. You'll have to prove yourself in our application, essays, letters of recommendation and any other opportunity you have.
Lottery School: There are some schools with such a low admissions rate, it's like winning the lottery if you are accepted. These schools reject thousands of candidates with perfect scores and #1 class rankings. You'll need a little bit of luck, and something special about your application, to get in. (And many Going Ivy students have gotten in.)
If you are not sure where to apply, Going Ivy counselors will share some tested resources to answer what type of schools might be the best match for you. Here are some of the questions we'll ask that are proven to get students and parents really thinking about the best college for their future:
What academic subjects are your favorite? Why?

What academic subjects are your least favorite? Why?

What is your leadership experience?

What kind of leader are you?

How would you define community?

What is your work experience? What do you like most about your job? What do you like least?

Are you comfortable expressing your needs to others?

Do you want to take some new classes in college to see what else is out there to learn about?

What are your talents?

What really frustrates you?

Do you read any websites or magazines regularly?

What is something you are motivated to do?

What was the best part of your most recent summer?
Don't worry—it's not a test. We just want to know you as a unique individual. Some schools have personalities of their own that may be dominated by football, liberal politics, fraternities and sororities, traditional academic environments, independent study, or a defined core curriculum. Going Ivy shows you options for campuses that have a personality that matches your own.
As your application summer grows closer, Going Ivy will evaluate each school on your interest list for its fit with your personality, academic and career goals, and your likelihood of achieving admission. We'll help you rank the schools and strategize about which schools to apply to first, including strategies for Early Decision or Early Application. Regardless of whether you apply through any early program, Going Ivy will show that your chances of gaining acceptance improve significantly the sooner you submit your application, so we'll make it our goal to apply well before any deadline.
Contact Going Ivy to Schedule Your Consultation
Going Ivy recognizes the importance of choosing the right support for your college admissions process. In order to help you with your decision, we offer all of our prospective students free, no-obligation consultations. This allows you to ask us whatever you'd like to know and allows us the ability to learn more about you, your goals and your needs. You don't have to have Ivy League grades to call us at Going Ivy. You just have to want to succeed at the best school for you. Call us today to learn more about how we can help and to schedule your appointment.
Going Ivy
Average rating:
0 reviews

Meet our team of former admissions officers, Ivy League and top school graduates, and tutors.